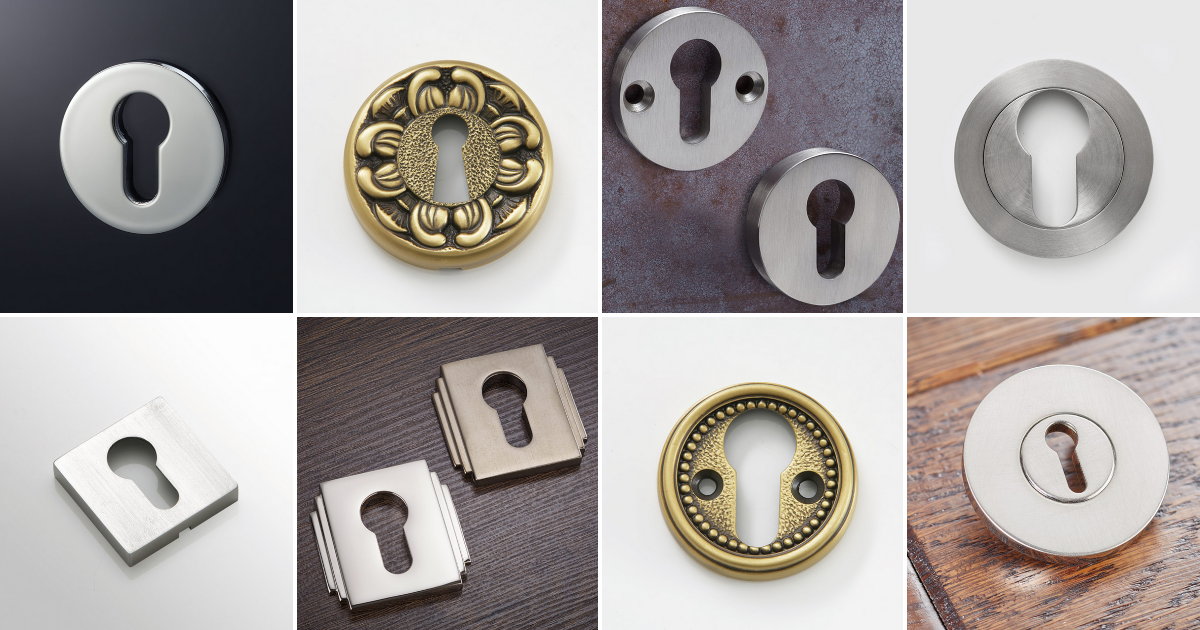 Not only does ironmongery offer the looks, but it also provides security to your premises. At Strada, we provide security ironmongery pieces ranging from window furniture to locks and door bolts.
Read on to find out our suggestions for the classiest ways to keep your property secured.
Locks
Ensuring the security of your office building or home is imperative. Door locks experience a high volume of use and therefore must not only look sturdy to deter intruders but must also be robust enough to accommodate constant use.
Choosing the right lock goes far beyond just security. For the designers and architects amongst us, we know that a door lock is a crucial finishing touch to every interior and how important it is to be kept in line with the overall aesthetic of the building. For many individuals, it offers a sense of pride and trust in the equipment when locking and unlocking their home or business premises.
At Strada, we understand the importance of providing security and aesthetic and we've ensured that our door locks provide both of those essential qualities. Our door locks feature in a range of our stunning collections, such as the Hoxton, Curzon, Seymour, Cavendish, Grosvenor and Compton.
Latches
The Hoxton and Seymour collections offer the Din Standard Latch, Contract Tubular Latch and Premium Upright Mortice Latch.
Sashlocks
Included in the Curzon and Cavendish collections are the Premium Mortice Euro Profile Sashlock and British Standard 5 Lever Sashlock.
Rim Locks
Featured in our Grosvenor collection, the Farleigh Rim Lock and Hopton Rim Lock are yet again available in thirty-six different finishes to ensure that all the right finishing touches are added to your project.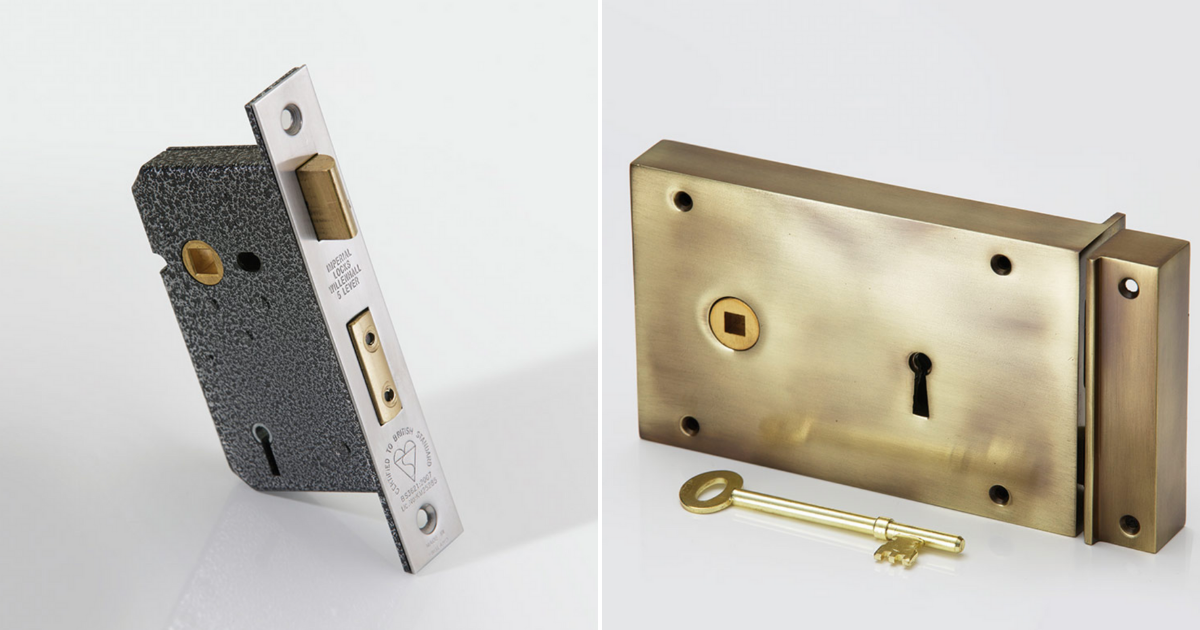 Window Furniture
Window furniture includes everything ranging from sash fasteners and casement stays to shutter bars. All of these are equally as important to ensure your windows are fully-functioning. Not only does window furniture affect the security of your interiors, but it also plays an important role in its looks too. Read more about How Window Furniture Can Transform Your Project.
Implementing secure windows in the home or building is equally as important as using sturdy and fully-functioning door locks – the two work together to provide ultimate security. This is particularly the case given that windows are often seen as a point of easy access for intruders.
Featured in our window furniture collection are some stunning and diverse items that have been designed to appeal to various different interiors. Our Bourdon collection is the ideal choice for those looking to implement the classy Art-Deco feel to their interiors and offers the Strada London Brighton Sash Fastener and Strada London Cast Sash Lift.
The stunning Cavendish collection features the Regency Casement Fastener and Regency Casement Stay, ensuring that the windows shut correctly and stay firmly shut, while also being available in thirty-six finishes.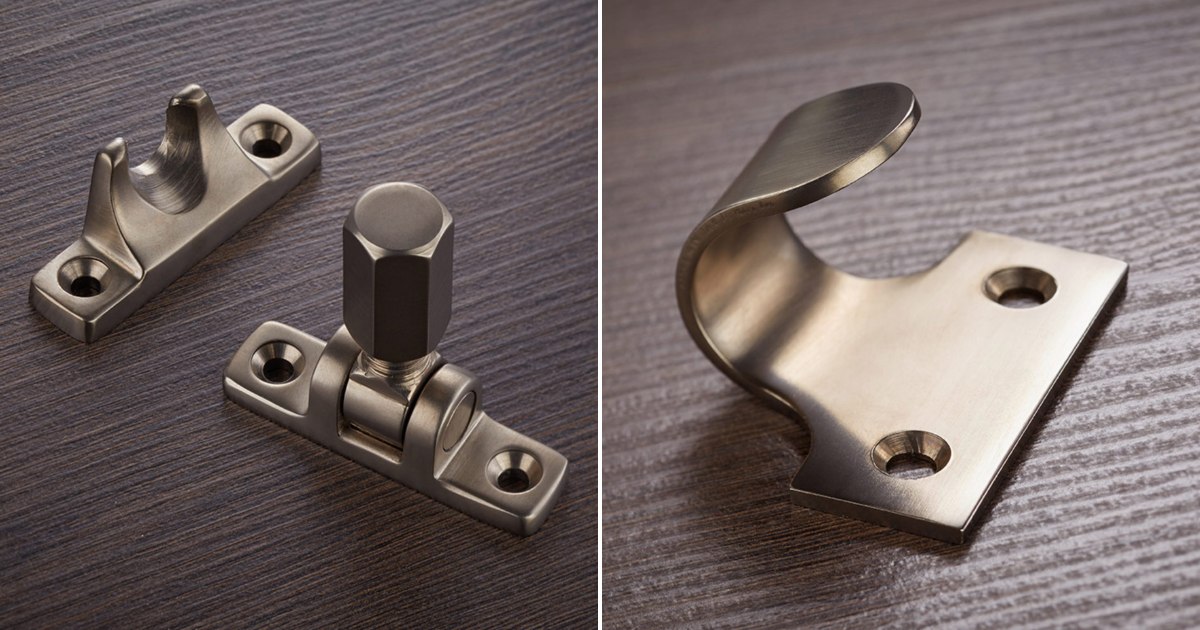 Door Bolts
Door bolts can come in a variety of forms including bars, rods or pins.
Brass Door Bolts
These are featured in our beautiful Cavendish collection. They consist of the Regency Door Bolt and the Cavendish Door Bolt. This spectacular collection evokes style and charm and comes polished in a striking brass finish, although there are thirty-six other finishes available to choose from including Hippodrome Brass, Palladium Brass and Admiral Brass.
Security Door Bolts
Surface bolts are mounted on the surface of a door and can be used to conjoin doors, as well as providing additional security as the bolt is mounted horizontally on a door. The Sloane Surface Bolt is part of our Dorchester collection, a sophisticated range incorporating elegance, class and style.
Black Door Bolts
It's been stated that "Black is the new black" and this trend is predicted to make a big comeback in the architectural and design trends of 2019. Our Strada London Shelton Espagnolette Bolt is part of the contemporary Fitzroy collection, stylish range of architectural hardware that is manufactured from stainless steel. Some of the stunning crafted pieces use the metal exclusively while others interlace it in sleek vertical lines, resulting in an elegant appearance.
Heavy-duty Door Bolts
Heavy-duty door bolts are specialist ancillary fittings used to bolster security on external doors. Bolts of this type have a long history, being utilised to protect and secure properties back through the centuries. The particular advantage of such bolts is that they are extremely difficult to manipulate or access from the external side of the door.
At Strada, we often recommend additional heavy-duty door bolts for external doors to provide an additional layer of security and peace-of-mind for the homeowner.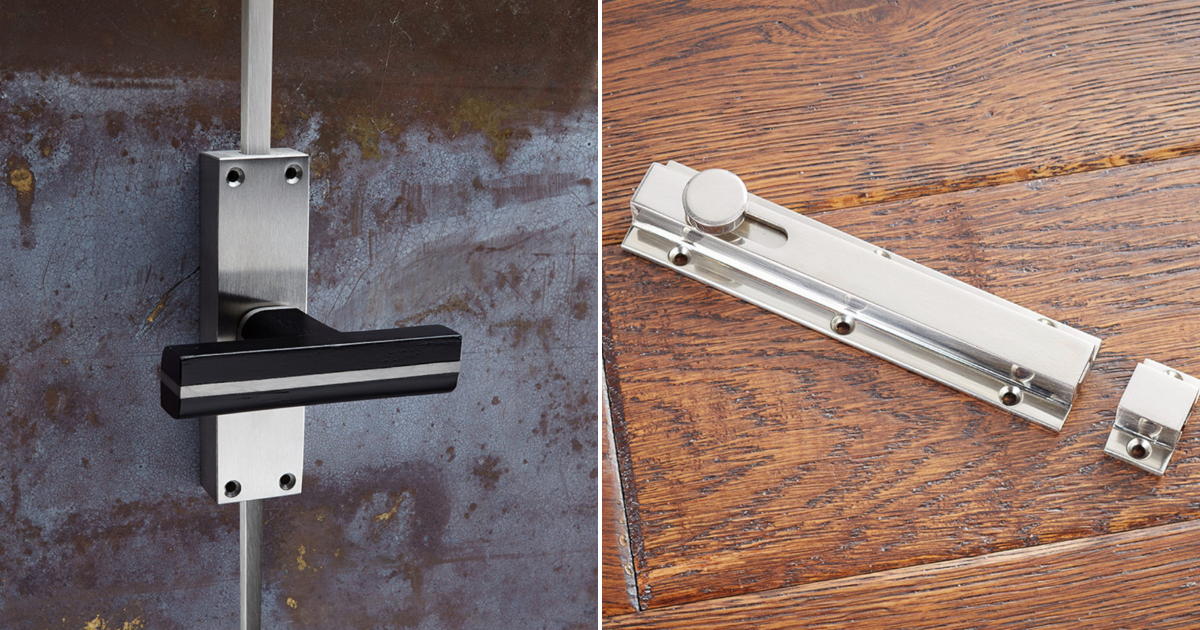 Escutcheons
Escutcheons are an item of door furniture; the metal plate surrounding a keyhole or door handle. Not only do these provide protection against damage and general wear but they also add a personalised finishing touch.
It is not uncommon to misjudge the keyhole when locking or unlocking a door. This inevitably leads to hitting the surrounding area with the end of the key, resulting in scratches and chips. Escutcheons provide protection against this, as well as the frequent turning action the door lock experiences.
At Strada, we offer an extensive variety of escutcheons, all belonging to our stunning and diverse ranges. Our aim is to ensure that there is a finish for every individual's unique interior.
This collection offers the Standard Profile Escutcheon, Oval Profile Escutcheon, Euro Profile Escutcheon and Blank Escutcheon. A collection ideally suited to the educational, commercial and health sectors providing an exquisite combination of quality and affordability.
This collection features the Talbot Euro Profile Escutcheon providing interiors with a classy Art-Deco design.
As part of this collection, we offer the sleek Standard Escutcheon and Euro Profile Escutcheon, which combine a minimalistic design with maximum functionality.
This collection includes the Yarnton Escutcheon, Begbroke Escutcheon and the Poyle Escutcheon, the perfect items for those looking to recreate the unique character of a building or interior.
A collection that features the Regency Covered Escutcheon, exuding a sense of traditional style and genuine charm. A striking polished brass finish offers a timeless feel.
A collection that includes the Sloane Keyhole Escutcheon and Sloane Euro Escutcheon, a sophisticated range combining elegance and a contemporary design.
This collection features the Strada London Lisle Security Escutcheons and the Strada London Lisle Euro Profile Escutcheon, offering a remarkable combination of functionality and form to suit any modern residence or commercial environment.
Included in this collection is the Strada London Franklin Suite Covered Escutcheon, available in thirty-six stunning finishes and capable of bringing sophistication to any setting.
Lastly, this collection features the Strada London Duke Euro Profile Escutcheon, an item that works perfectly in sync with Berkeley's smooth curves and cuboid designs.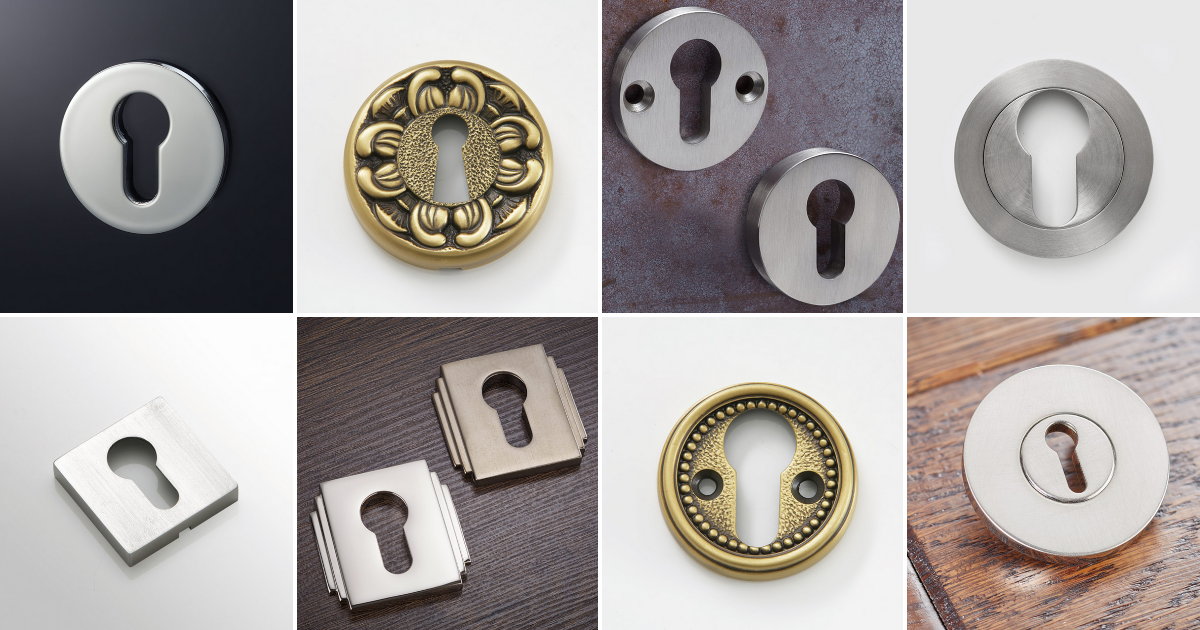 Snib Turn and Release
Snib turn and release locks are often used in the bathroom to provide added privacy. Our Hoxton, Bourdon, Curzon, Dorchester, Berkeley, Fitzroy and Compton collections all feature a range of stunning locks, handles and bars to install in the bathroom door. With Strada, you can be sure that we have a product available for every design style.
As part of the Hoxton collection, our Bathroom Snib Turn and Release lock is suited to the commercial and health sectors such as schools, offices, high-end hospitals and care facilities. Its sophisticated and sleek look allows this collection to provide a clean and hygienic solution to high traffic areas. It even comes available in an anti-bacterial coating.
The Bourdon collection offers items that are perfect for the refurbishment of properties that date from the early twentieth century, such as the Melbray Bathroom Turn and Release.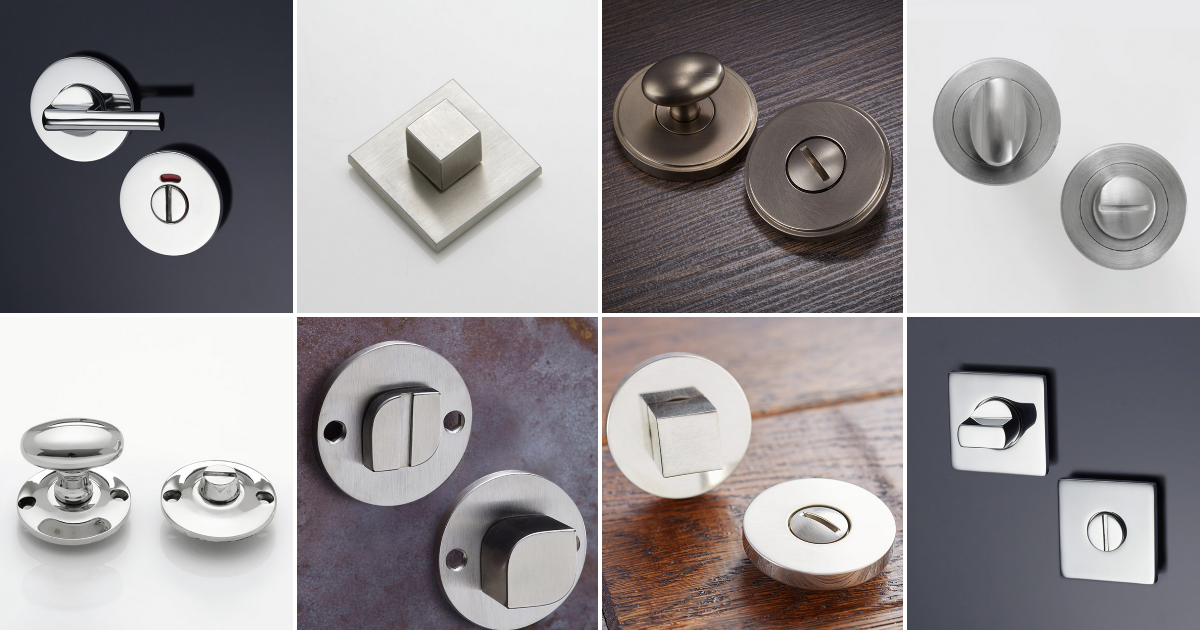 Door Controls
Door controls give the ability to effortlessly open and close a door and can be considered a security measure as they prevent external doors being left open to intruders. These are also often employed as part of fire safety.
However, there's no reason why such a functional object should not be aesthetically pleasing and provide continuity within your interior space. At Strada, we have designed door controls that suit a variety of interior designs, and of course, other finishing touches are also available to further tailor the item to the interior.
Floor Spring
As part of our Curzon collection, the Universal Floor Spring is available with options for glass or timber doors and Hold Open and non-Hold Open units, while featuring all of the appealing benefits of this stunning and robust collection.
Overhead Door Closer
Featured in our Hoxton collection are three overhead door closers; Contract Overhead Door Closer, Slimline Overhead Door Closer and Concealed Overhead Door Closer. Combining security, functionality and style.
Do you need luxury ironmongery that provides security and aesthetic for your project?
Speak to our experienced team on +44 (0)1959 577342 or email sales@strada.uk.com.
This article was written by Darryl Woodcock, Sales Director at Strada London Ironmongery since 2014.
With comprehensive product knowledge and creative vision, Darryl is an invaluable asset to Strada and continues to secure contracts from larger clients as well as overseeing the R&D department.
Connect with Darryl on LinkedIn
Other articles that may be of interest….
How Window Furniture Can Transform Your Project
Bespoke Door Handles – Inspirational Ideas
10 Steps to Create a Luxury Interior
Best Examples of Architectural Ironmongery in the UK