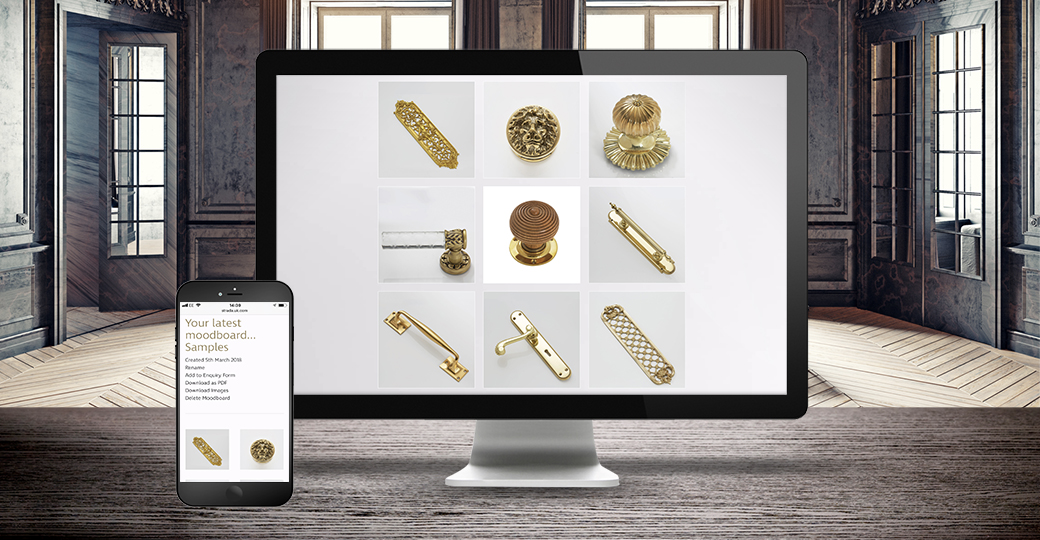 Learn how our Ironmongery Moodboard can assist any interior design project.
If you work in interior design or the architectural industry, you will most likely have created or seen a moodboard before. Moodboards are commonly used in both the interior design and architectural industries due to their ability to effectively convey the vision of a designer. Words are often not enough to communicate a clear concept, whereas a collection of related images can easily create a cohesive expression of a designer's vision.
Moodboards are not only great tools for presenting initial design ideas to clients, but they are also extremely helpful when working on an interior design project. Moodboards help interior designers to stay focused on the presented concept and to make decisions accordingly as to not stray from the original idea.     
The correct choice of ironmongery for a project is often the element that solidifies the overall style and aesthetic of a design. Using a moodboard to define the window and door furniture choice for an interior design project can really help paint a picture of the project in its entirety.
Our ironmongery moodboard is the perfect tool for you to gather all your inspirations in one place and begin planning your interior design project.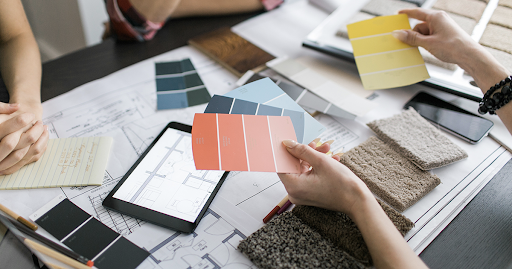 What is a moodboard?
A moodboard is a creative tool which is used to assist designers in the development and visualisation of the concept of a project. Featuring a thought out collection of images, text, patterns and textures, these tools are used to help focus the design process.
Using a moodboard in the early stages of an interior design venture is an effective method for conveying the overall vision you have for a project. They are also useful for creating an initial starting point and giving you a base to build upon, this helps design decisions to be made without straying from the original chosen concept.
Moodboards can be either be physical or digital, a digital moodboard is much easier to put together and takes much less time to assemble than a physical one. However, both come with their own advantages. For instance, a physical moodboard constructed of cut-out images and fabric creates an outstandingly effective presentation tool. The tangible essence of a collection of cut-out visual cues grouped onto a board intensifies the emotiveness of what vision is being communicated.  
Moodboards are not only an extremely useful tool for designers and architects, but they are also beneficial to contractors. When it comes to presenting design plans, it can be challenging to relate concepts without a visual representation, this is where a moodboard becomes a highly practical tool.   
Interior Design Moodboards
Moodboards are an esteemed and vital tool for interior designers, enabling them to collect all of their ideas for a project in one place and help them to form a clear concept.
Interior design moodboards generally consist of cut-outs from wallpaper samples, colour swabs, photos from magazines and fabric samples of often differing textures. These physical moodboards allow clients to interact with the pieces and get a feel for the presented concept. However, many interior designers use a combination of physical and digital moodboards. Digital moodboards are an excellent way to decide on the direction you want to take the project.
When creating a moodboard for an interior design project, it is recommended to consider a leading piece; be this an item of furniture, a section of wallpaper or even just a colour that you want to build the rest of the room around. This helps create a starting point for your ideas to develop from.  
You may have, for instance, several extravagant ironmongery pieces you wish to mould a project around. Taking a photo of these pieces and adding them to a moodboard, or finding similar pieces from our ironmongery collections and adding them to the Strada ironmongery online moodboard would help you to focus on a clear design vision.
Architecture Moodboards
Communicating a concept can sometimes prove very difficult when it comes to architecture. When relaying a vision to a client, words tend not to be the most effective way of translating. Definitions of what a particular aesthetic or style encompasses can differ between one person and another. Visual examples have the ability to communicate what words fail to do.
This is why moodboards act as an ideal instrument to present those initial ideas to clients. Making an architecture moodboard creates a comprehensible understanding of the design concept between both the client and the architect.
While it might seem a minuscule detail, the finish of architectural ironmongery can make a big difference to the overall impact of a project. Using a moodboard to define the aesthetic of a project allows you to physically visualise what works.
Strada London offers a wide variety of metal finishes for precisely this reason. Considering our range of finishes and ironmongery collections and then adding them to our ironmongery moodboard will help you to find the right architectural hardware to fit the specified concept of your design.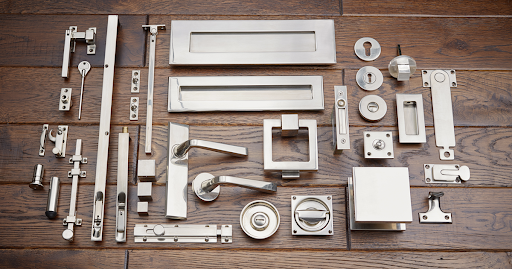 Strada Moodboard: Why you should use it
Moodboards are the perfect place to gather all your inspiration and ideas for a project in one place. Strada's online moodboard feature is the ideal tool to help you begin to plan your interior design project.
The moodboard is essentially the skeleton of your ironmongery specification. Once you have selected all of your preferred designs of products and added them to your moodboard, we can then produce our detailed schedule and quotation for you. Thereafter, any amendments to the schedule, changes in finish or additional areas can be easily added to the schedule. The moodboard is the perfect baseline for your project.
Our moodboard tool can be extremely helpful to interior designers, architects and contractors alike working on a project. In fact, for an architect or interior designer, our ironmongery moodboard acts as a central zone where the products can be visualised and detailed. This greatly assists designers or architects in focusing on a clear design concept.
We have found that for our clients, the use of a moodboard and having the visual cue of specific images can be very helpful for removing the general complexity of a detailed schedule.
A project beginning with a client-issued moodboard is an ideal starting point, it helps to pave the way to a strong specification and schedule.
Try the Strada moodboard for yourself
As the Strada ironmongery moodboard is in a digital format, it can be presented in any condition, and be prepared and presented with no expense making this feature the perfect tool for remote architects and designers.
To begin your next ironmongery project use our online moodboard tool and watch your design concept take shape.
Did you find this article helpful? We think you'd enjoy:
The Benefits of Creating a Moodboard for your Architect/ Designer